"Irrational thoughts should be followed absolutely and logically."
— Sol Lewitt
It's hard to recollect exactly how TNS started. It was clearly a ridiculous idea from day one, but one that we have continued to follow through with for many years. The beer has flowed, a lot has happened and it dates right back to 2003 (perhaps earlier, as a concept).
There were a variety of reasons that TNS started out as a fanzine in 2003, then became a Manchester-based band night in 2004 and later a record label in 2008. I'm going to attempt to recollect it all. Apologies if you remember it differently. It has been some party, so that is inevitable.
I have deliberately avoided naming too many people in this write-up, as we have always believed in working collectively and we don't want to miss anyone out who has put time and effort into all of this. Please know how much we appreciate every single person who has ever been involved, on any level, and that you are important to this story.
THE EARLY DAYS AND DIY
A few of us had started to discuss how disheartened we were that so many of Manchester's band nights were running on a pay-to-play basis. There is a lot of discussion about what a pay-to-play gig actually is, and I feel it's relevant to briefly explain it. Some tell horror stories about promoters asking bands for a fee to play a gig. For me, that was the extreme, but it starts with much subtler versions, which set worrying precedents.
I've always considered pay-to-play to be when a promoter books a band on the condition that they sell a certain amount of tickets. The typical deal back in 2003 was something like this: The band was given 50 tickets to sell at £5. They received no payment if they sold less than 25, they could keep £1 from each ticket sale if they sold 25+ and £2 from each ticket sale if they sold 50. The promoter got most of the money for doing pretty much nothing. Typically, the band didn't get booked again if they didn't sell the required amount of tickets, and typically the lineup was really incoherent, which can be good of course. But at these gigs, which were often attended by friends and family members who had been dragged along, it meant that often the crowd just watched the band they had come to see. It felt like a battle of the bands. And for me, a battle of the bands is equally as terrible. Neither pay-to-play nor music competitions encourage a 'scene' or community built around music.
But the problems with pay-to-play go even deeper. Maybe you can get 50 people to come and see you in your hometown, or when you are a student at uni, for example, but how do you get to travel further afield and play new places? How do you build a fanbase? I've been in bands to which it has been suggested, in all seriousness, that we should put a coach on to bring our own crowd to watch us play a different city on a pay-to-play deal, or use local gigs to finance loss-making out-of-town gigs where we would likely have no crowd, as we couldn't easily take one.
On occasions, some have argued with me that my version isn't pay-to-play (typically when they have been offered this deal on a gig they really want to play), but I disagree. You are booked based on how many tickets you will sell. If you sell no tickets, you won't get rebooked. If you sell one or more tickets, you are handing over cash to a promoter who has done nothing to push your band. If you don't give them the cash, you won't play. Of course, there are some gigs offering this deal which are more desirable than others, but they all set a dangerous precedent and negatively impact bands, genuine promoters, venues and music fans, in my opinion. They hinder a community from developing.
I must, at this point, make it clear that I understand why bands took (and continue to take) these deals. I have, in the distant past, taken them myself. I don't hold it against any band who decides to do so. I also understand how 'some' promoters who offer pay-to-play do it completely innocently, as do some who promote music competitions. I also don't have a massive issue with bands helping to sell tickets if they want to. Any band who doesn't promote their gigs is gonna struggle. But it shouldn't be the only reason a band is booked. Surely bands want to be booked by someone who cares about their music?
We are not necessarily asking everyone to agree with us about these things, but I think it is important to the ethos of TNS to explain our thought process from way back in 2003. Over the years, we increasingly realised that bands were often being taken advantage of by people who had little interest in their music, and that there was no way of developing a genuine community of gig-goers, or a platform for new bands to tour, by continuing to play these types of gigs.
What do you do if you think something doesn't work and you find yourself constantly complaining about it? In punk rock, we do it ourselves. Way back in 2003, we decided it was time we practised what we preached and we attempted to offer an alternative. It was never going to be easy, but it was always going to be fun.
It would be inaccurate to say that TNS was born out of opposition to pay-to-play, but it was our objection to this and to other things we experienced in a DIY band that caused us to properly think about the importance of a genuine community spirit in music. We were desperate for positive collaboration between like-minded bands and music fans and felt that there were many, many others that felt the same. TNS was always driven by our desire for bands to work together and to have a community everyone was invested in and felt that they could get involved in if they wanted to. A safe space to share ideas and music. We would never claim that we invented or instigated this idea in any way, of course, but I think the growth of TNS is a good case study of what was happening in a lot of small scenes at similar times. I think that the many smaller scenes and communities starting to connect and share ideas has led to the DIY punk scene being a very special place that spreads all around the world. It has been pretty incredible to play a small part in that.
TNS GIGS AND THAT'S NOT SKANKING ZINE
My first active band, McGraw, had encountered pay-to-play gigs in the West Midlands in the late 1990s and early 2000s. With the help of a PA borrowed (for free) from the local guitar shop (cheers, Eric), we countered this by putting on free gigs of our own at a variety of small pubs. It worked. People came. There was a great atmosphere. I don't think any of us knew much, if anything, about the pioneers of DIY punk in those days. Doing it ourselves just seemed like the most obvious thing to do. When I first moved to Manchester, I was so excited to play some of the city's favourite venues, but the same issues that we had found in the West Midlands were present in Manchester. So, we had to attempt the same solution – stop moaning and have a go ourselves. Putting on our own gigs meant we could book the bands we actually liked, and try and encourage everyone who came to watch all the bands. If we liked these bands, then hopefully others would too.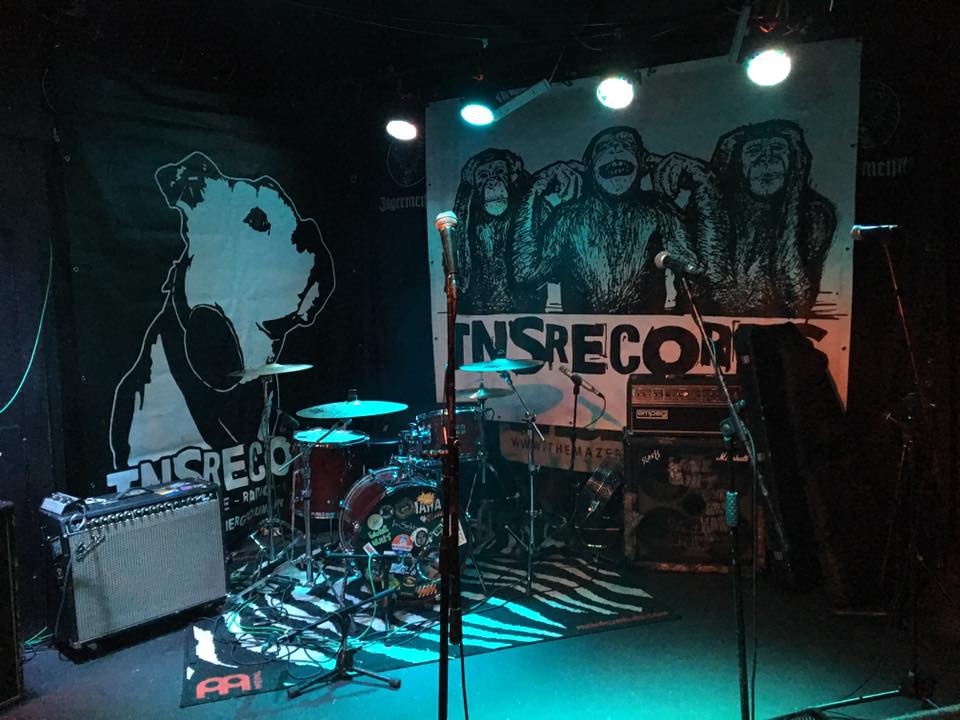 Some of us worked in pubs at the time and we were lucky enough to be able to convince colleagues at The Attic (now Zombie Shack) to give us free room and PA hire on a Sunday evening. However, most of the people involved at the start of TNS had only recently moved to Manchester, and most of the bands we wanted to put on probably couldn't fill even a tiny venue. We wanted and needed to get new people interested, which was and always is a challenge, especially without an advertising budget, and alongside working our jobs. This is where the fanzine came in. A few of us had been discussing a zine for a while. We had the idea that we could use the pages to write about bands we liked, and tape CDR compilations of bands playing the gigs to the front of the zines, so people could hear the music. Surely this was better than just giving out flyers with lists of bands no one had heard of? Whilst people used the internet for some promotion in those days, it was small. Facebook didn't even exist until 2004 and I don't think most of us were on it until much later. Physical promotion was (and still is) essential. We funded the zine ourselves. The early copies were photocopied at the self-service photocopier in Oxfam on Oxford Road and hand stapled. The zine launched in autumn of 2003 and was distributed for free at some bigger gigs and in local shops such as Piccadilly Records, Rockers England (and later Roadkill Records). The zine was called "That's Not Skanking".
Memories of where this odd name came from differ, so who really knows? My memory is that it was invented by a ska band at a McGraw gig in Stafford. I recall the singer telling everyone to stop dancing mid-song and saying, "That's not skanking!" to the crowd, which was very funny. Adam from McGraw thinks it first happened at a gig we put on at the Social Club where we worked. A drunk man from the local running club, who had decided to pop into the gig, had the phrase fired at him for his fancy moves. Both stories are great, maybe it happened at both? Anyway, we wanted it to take off as a phrase. If something was a bit bad, we had hoped people would say, "Oh, that's not skanking", obviously a terrible idea, which never remotely took off.
The early issues of the zine had content that built towards the first That's Not Skanking gig, which took place at The Attic on 11th April 2004. It was free to get in, as all the early gigs were. The lineup featured The Blunts, 3DBS Down and Monkfish and it was also the first gig for my own new band, Revenge Of The Psychotronic Man. As some of you will know, the Revenge and TNS stories go very much hand in hand. We weren't meant to play, we didn't have a full set and we only decided on the name just before the gig. We were never going to keep it…
That gig very much set the tone for what was to come in the near future. There weren't many people there, and someone cut their head open jumping about to The Blunts and was kicked out by the door staff. Si from 3DBS Down fainted at the sight of the blood and they were unable to play. It was in fairness, a complete shambles, but a fun shambles and we'd made a start and done something, which felt good.
It took a while for the gigs to get busier, but gradually they did. We learnt (or tried to learn) as we went along, making many mistakes. We started out using 'hilarious' pound shop raffles to attempt to fund fuel for the bands (I think this was very much connected to the tacky animal imagery we still use). I've seen someone pay £10 for raffle tickets, because she wanted to win an ornament of a dog's face crafted into a rock, which she could have bought for £1 in the shop around the corner. The raffle was sometimes introduced by a Malibu drinking idiot with a bugle horn. In short, everything was pretty ridiculous, right from the start. Eventually, as we did more and more gigs, we moved to donations for petrol money. After a while, we got to a point where enough people were coming that we could charge a door fee and were able to look after bands far better, offering petrol money, food and drinks as standard. We even cooked vegan hotdogs in kettles at gigs. Yes, it actually works.
We rarely book gigs these days but are very appreciative that, over many years, we eventually reached a point where our gigs were pretty well attended and that bands began to comment on how well they were looked after and how special the Manchester crowd was. Massive thanks to everyone involved in those early days. It's also important to acknowledge The Attic, Joshua Brooks, Gullivers and Retro Bar (which was our home for years) where most of the gigs took place. We also did lots of one-off gigs in some other venues around Manchester and were invited, on occasion, to put on events in other towns and cities.
I will return to discussing our gigs shortly, but now it's time to talk about the start of the label.
DRINKING IN THE VAN AND THE BIRTH OF THE LABEL
In 2005, Revenge Of The Psychotronic Man organised our first UK tour. Most of the gigs came about through gig swaps. We invited bands that we loved to play That's Not Skanking gigs and they helped us out where they lived. I still think this was a lovely way of starting out and we made many good friends through doing it. We needed a driver. Our former guitarist, Liam, who had actually joined after meeting us at a TNS gig, had a mate who he said would happily do it in return for some beer (not whilst driving obvs). This driver was Tim 'Bev' Bevington. After a few more tours and many nights spent drinking, ranting and sleeping in vans, we got to the idea of turning TNS into a label. Many more of the ideas we've come up with since have originated on long van or ferry journeys, travelling around, playing and listening to music. These experiences have certainly shaped and evolved TNS hugely.
Back in the mid-2000s, we were meeting, watching and booking so many bands that we absolutely loved. Most didn't have much in the way of distribution or a record label. We wanted more people to hear these bands. Through the zine, we had experimented with putting out the free CDRs. It turned out that Bev had very similar experiences prior to meeting us. He'd been involved in putting on successful rock nights in his home town of Oswestry. He and Liam had also released their own compilation called 'The Footlong Compilation'. After saying for ages that we were going to start the label, we eventually did it. We didn't know what we were doing (and probably still don't), but we had the passion and will, so in the continued spirit of DIY, we had a go. 
A compilation CD seemed like the best starting point. It was a way to assemble music from loads of the bands we loved who were playing at our gigs, and share it with our audience. It was also a way for all the bands to share each other's music further afield. We really wanted to build a community of like-minded bands in many different locations, who could maybe book each other in their own towns and cities to play to lots of new people.
Bev tells the story of the arrival of 'TNSrecords001: Music By People Who Drink Cider In The Gutter' far better than me. It was delivered to him, and he often describes how he will never forget the excitement. I remember him bringing it over to my place and it was an unforgettable experience. I still get excited every time a new release arrives, but not much will top that very first release. It came out in early 2008. It had always been an ambition to start a label and four and a half years after the first zine was handed out, here it was: a genuine CD that we had put together and released ourselves. It was pretty special.
I always remember our friend Mikey Wong saying, "Why have you called it TNS001? Are you going to do 100 releases?" Who would have believed that we actually would?
THE ETHOS
From day one, it was always going to be a not-for-profit label. Anyone involved in DIY punk will tell you that it's almost impossible to make any money off it anyway, but we never had aspirations for it to be anything more than a glorified hobby. If one release could fund the next, then we would be very happy. Of course, it hasn't always been that simple. We have to always take into account that we can't do everything, when we have real jobs too, which can be difficult at times.
Our ethos has always been to support amazing music where we can. But the community aspect is huge for us too. We believe that everyone should feel able to get involved and feel invested in it. Whilst punk can be a great place for sharing progressive ideas, it also should be a place where people can escape and have fun and let go. Achieving that balance has always been important to us. We enjoy getting involved in progressive things and in the past have often been involved with benefits, for causes such as our beloved FC United Of Manchester, our recent 'Act Now' shirts, which raised money for the World Land Trust and many, many more. We've also at times used TNS as a platform to share our political thoughts. Our Boris shirts have been particularly successful on that front. We have all learned a lot about the world through punk rock and it's important to share information and help others when possible.
Musically, we have really diverse taste. I think the output of the label was always going to reflect this. As clichéd as this sounds, for many involved with DIY music, punk is more of an ethos than a particular sound these days. We like to fully embrace that. The idea of having bands playing folk, grind, thrash, ska, metal and even a touch of dance, plus everything in between, on the same label and playing the same gigs, always really excited us.
A vital thing for us has always been that people enjoy what we do. It's very special when someone shares how much they love a particular new release. We want to release music that we want to listen to ourselves. When others enjoy it too, that is lovely. When you look around a room at a gig and see everyone smiling and enjoying themselves, it definitely makes it all worthwhile.
The idea of a collective has always been essential to what we do. Anyone who wants to get involved with DIY punk should be made welcome and everyone doing stuff already needs the input of others. That collective volunteering of time, skills and resources is something that's pretty unique to our scene and without it, most things we love about our scene wouldn't be able to exist in the same way.
The beauty of DIY punk is that if you don't like something related to it, or think of an exciting new idea, you can do it. There is a platform.
INTERNATIONAL TNS, COLLABORATIONS AND THE DISTRO
As TNS began to grow, we met more and more like-minded people doing similar things outside of the UK. Collaborating with other DIY labels and promoters on releases, gigs, fundraisers and festivals had always been part of what we did, but as we started meeting more labels from overseas, these collaborations spread even further afield.
TNS016 was our first truly international offering, featuring bands from the UK, Denmark, Sweden and the USA and it was a lovely project to be involved with, establishing long term relationships.
A lot of UK bands started touring mainland Europe at similar times and as a result, gigs changed in the UK, with the provision of cooked food, places to sleep and a few beers for the acts becoming the norm here. That was never the case when we started out. Whilst sleeping in vans when it is snowing outside is character-building, I think you soon get to the point where a nice couch is preferable.
I think these tour experiences, and the new ideas we were introduced to, have shaped and evolved what we do and will continue to do so. Seeing how bands were treated in mainland Europe, and learning how community spaces and venues are run in other places, has pushed us to evolve what we do and has been truly inspiring.
Our distro has always been a way to extend our community. For a small label like TNS, we simply can't release every band we like. We also need to know that we can cover our costs. Hearing a band from the other side of the world with a shared ethos is always awesome, but for a label on a budget, we can't just fully release their music. However, we can take a small amount of stock for our distro to help spread the word. Our distro includes stock from so many independent labels and exciting DIY bands, so please check it out. It is also incredibly diverse. I mean, one of my favourite distro items is a Puerto Rican salsa band (check out Orquesta El Macabeo). There are lots of bands you will recognise and plenty you might never have heard before, but fall in love with. It is incredible that punk is a truly international community that will hopefully continue to grow.
STRUMMERCAMP
In 2009, we were delighted to be asked to get involved with Strummercamp Festival. In our first year, we picked a few bands for the second stage. That evolved into us being asked to take over the second stage the following year. Having a full TNS stage for two days was pivotal in our development. Seeing how a not-for-profit outdoor festival worked, and the community it encouraged, was incredible. It was also a chance to bring together loads of the bands we were working with, in one place over a weekend, to help to build their audience but also to get to know everyone better. A huge party in a field is an awesome way to get to know people. We still work closely with Strummercamp and are very grateful to Phil for the opportunity to be a part of the event.
TEN YEARS OF TNS GIGS AND THE BIRTH OF MPF
When the opportunity arises, we have always loved the idea of trying to gather together as many of the bands that we work with as possible. Historically, one way we did this was to put on an annual all-dayer, in March or April, to celebrate our birthday. These gigs began at Gullivers in Manchester. Gullivers became too small so we moved to the slightly bigger location of Kraak Gallery. After selling out Kraak gallery two years in a row, in 2014 we decided to go a bit bigger. Our 2014 gig also marked the ten year anniversary of the first gigs, so we decided a huge party was needed. We also decided to have two days of fun.
On the Friday evening, we had several bands playing at The Bay Horse. Then on the Saturday, we booked Sound Control for the all-dayer. Sound Control's capacity of 450 allowed us to have the biggest TNS party so far. This was followed by a wild after-show party at Joshua Brooks (where many of the early TNS gigs had taken place). Sound Control was packed from the start and it was so special to see small, DIY acts we'd been working with playing for big, enthusiastic crowds. I certainly shed a few tears. I think it was the first time we really took a step back and looked at what TNS had become. Everything had happened so gradually that we didn't really notice the changes. An anniversary event such as this was a chance to reflect. It was amazing that the event took place just a few metres away from the venue that hosted that very first gig. Going from that very humble beginning to the point where the DIY bands we loved were filling a much bigger venue was lovely. On the Friday night, myself and Bev were also surprised with a film screening of TNS bands and friends singing 'The Family' by Bootscraper (Live Aid style) with new lyrics to celebrate the anniversary. It had been put together in secret. You can check that out HERE.
After the event, we started to discuss where we should go from here. We wondered if the event would have been so well attended, with so many people travelling for it, if it hadn't been the anniversary. Should we return to a slightly smaller venue, or should we just go for it and try to attempt something even bigger? We decided to have a go at going bigger. And of course, working collectively to start a multi-venue festival was the best way to do this. We invited our friends from Anarchistic Undertones and Moving North to get involved. Both were putting on popular events in Manchester at the time. We attended these events as punters and felt that if we could combine our crowds, which perhaps didn't crossover as much as you might expect, we had the basis of a pretty exciting event, with a huge mix of musical styles that could be loosely connected to punk. I won't dwell on MPF massively here, as its history is written elsewhere. AU and Moving North could also tell their own versions of how they arrived at forming Manchester Punk Festival. As most of you will be aware, MPF has existed for several years now and continued to grow and attract punters and bands from all over the world. I still think the most special moments of MPF for me are seeing the DIY bands who graft all year, playing small gigs everywhere they can, filling 500 capacity rooms. It continues the tradition of providing people who are invested in our little scene with an opportunity to get together once a year and have a big party. That's a pretty special thing.
THE END OF THE GIGS, ZINE AND PODCAST
When we started the label side of TNS, we relaunched the zine as TNSrecords Fanzine. There were 18 issues of That's Not Skanking. When I revisit them now, I cringe a lot, but they are also a documentation of some great music and a way of piecing together those early years. There were 15 issues of the relaunched version, with the final one coinciding with the 10 year anniversary gig. Issue 12 of TNSrecords fanzine even appeared in an international exhibition and film organised by Salford Zine Library. With the pressures of running the label, the gigs, playing in a touring band (for me) and having full-time jobs, something had to give and the zine was the obvious time-consuming thing to drop. When the zine started there was less punk content online, but with so many excellent webzines, plus the continued existence of many awesome print zines, it seemed a bit less relevant to continue. I still love and collect physical zines and think they are a lovely way to document music. I often reread my old zines, whereas I rarely revisit online content. The zine is very much on a list of things that may start again in the future, but at present, it is on hiatus.
Another strand of TNS that is currently on hiatus is TNSradio. Our podcast ran for several years and at one point had a monthly slot on The Punk Rock Demonstration channel in the USA. Recording the podcasts was a great way of hearing lots of new music and they were always fun, mostly pissed-up occasions. Lots of people got involved with the podcasts over the years, but it was yet again a time-consuming aspect of TNS that had to give, as the label side of things became more and more work.
The TNS gigs are also few and far between these days. Manchester Punk Festival is a huge amount of work and doing gigs alongside the label and MPF was too much. We felt we weren't putting the same amount of effort into the gigs towards the end, and when something that you are supposedly doing for fun becomes a chore, then it's time for a rest. The regular gigs stopped in 2016, although we have done a couple of one-offs since then. We felt that, contrary to when we started TNS, the bands we liked were not struggling for Manchester gigs any more. In fact, many of the bands we worked with were more than capable of filling DIY gigs. The abundance of outstanding promoters in the city meant that we felt we could take a step back. 
Whilst the gigs, the zine and the podcasts have been vital components in the growth of TNS, I think it was the correct decision to put them on the back-burner. We were trying to do too much and it was affecting the quality of everything. But, all three deserve to be acknowledged here.
These days, we do have some involvement with gigs again. I help with the organisation of the Garlic Bread Club gigs, although Jo books all the bands. Bev is also involved, photographing the events. 
Bev photographs many, many other events. Check out Hold My Pint Photography. Lots of past TNS events are documented through his work. Many thanks to all of the great photographers who have helped to document all of these gigs and events. It is very important.
TNS TODAY
At the time of publishing this history, we had just sent our 100th release to press. It is very strange to think about reaching that milestone. We are still a relatively tiny label, but we have been lucky to have enjoyed many fun-packed years and unbelievable support from you good people. Myself and Bev started the label side of TNS, but we clearly couldn't do this on our own. Chris (Big Hands) and Kaz Hinsley recently got a new garage, with storing TNS stock very much their priority. Without their tireless work sorting your orders and anything else they can take on to reduce the TNStress for myself and Bev, the label simply couldn't exist.
As mentioned previously, we don't want to mention too many people by name, as so many people have been involved over the years and we appreciate it so much. But, we should give shout-outs to Emz Banks who has put huge amounts of our distro stock online, Mikey Wong for his incredible flyer distribution skills (I mean, he goes to every gig) and of course everyone who gives out flyers for us. Spreading the word is vital. Jamie Munro has chipped in with some publicity jobs lately. Adam Rogers has sorted all the interviews that appear on this new website. Matty Williamson and Shelley Slater have put a great deal of work into this new site too. Dan Flanagan has recently taken over sorting our regular Spotify playlists. Maxine Dunham and Sarah Williams have also helped us to proofread and check all of this and more. Jo Parnham and Liz Wigley have also recently started helping to add stock to the webstore.
We'd like to extend our huge thanks to every single person who spreads the word about our little label. Even just sharing our social media posts makes a huge difference. Thanks everyone, it is amazing to see people passionate and invested in what we do. And, to reiterate, everyone involved, including myself and Bev, do this on a voluntary basis.
THAT'S IT… FOR NOW
Congratulations if you made it to the end of the TNStory. Of course it's not the end. We have loads more planned, but this is where we are right now.
I'd like to reiterate what I said at the start. There are many, many people who have been part of this journey and we have deliberately avoided mentioning too many names for a variety of reasons (being mortified that we forgot someone being the main thing). But we do appreciate the efforts of everyone who has contributed to this ridiculous journey in any way whatsoever.
And, of course, we do not claim we pioneered or invented any of this. This is just our little part of a much bigger story that is DIY punk rock. There are literally thousands of bands, labels, promoters, podcasts, zines, screen-printers, artists, photographers, festivals, websites, etc. that are worthy of your time and are run by people who do it all for the love of it. That is a pretty incredible thing. So give some of them your support when you can. We can guarantee they appreciate it, as we do too. Every single sale makes a difference to us and goes back into the label.
A huge thing we want to end on is that we would always encourage people to have a go. We say things like "we make this up as we go along" and "if we can do this, anyone can" so many times that we bore ourselves. But, it is all true. So get involved and play a part. We can testify it might start slowly as it did for us, but you'll find loads of people will help you and share ideas and time. For this scene to continue to grow, new ideas and input are vital. The DIY punk scene is pretty special and it is for everyone who wants to be a part of it. It is a platform to change things you are not happy with and to bring new things to the table for all.
It has been an honour to play a small part in that and we thank you so much for supporting our ridiculous little label. 
Perhaps the irrational ideas are the best ones?
Andy + Bev